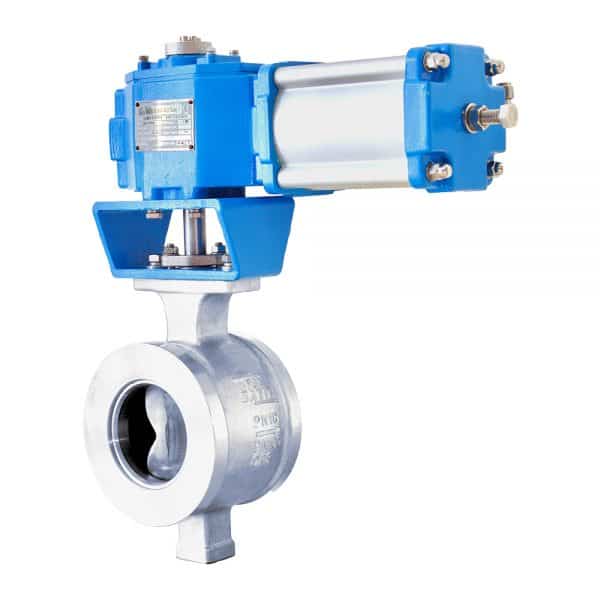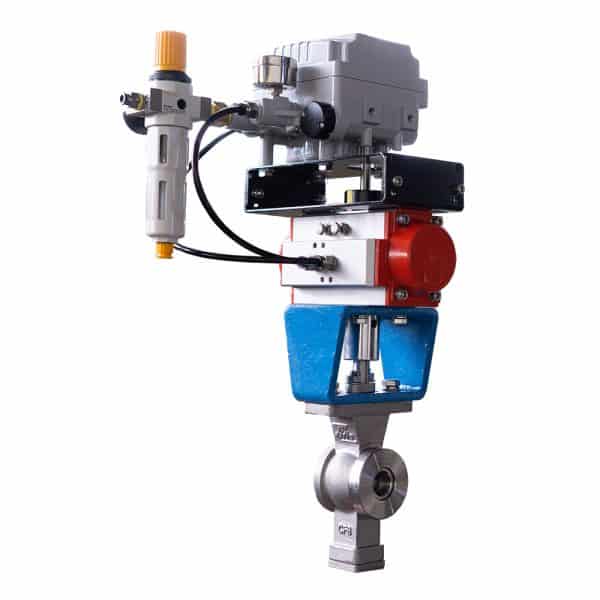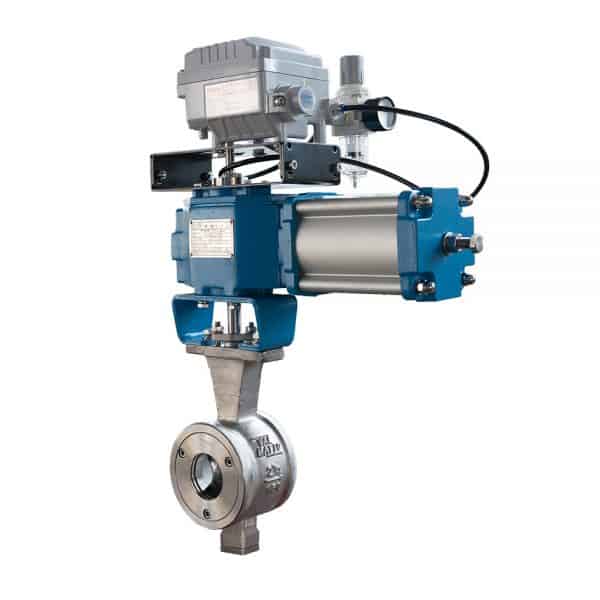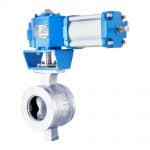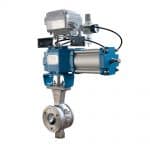 VALMATIC V-notch Segmented Ball Valve
Size Range: 25 – 600 mm (1 – 24")
Temperature Range: Up to 180°C
Pressure Ratings: PN 16, 40;
Class 150, 300
Description
Resources
Videos
Description
Specifications
Size Range
25 – 600 mm (1 – 24")
Temperature Range
Up to 180°C
Pressure Ratings
PN 16, 40
Class 150, 300
End Connection
Wafer (1 – 10″), Flanged (1 – 20″)
Shutoff Rating
Metal Seat: ANSI Class IV,V
Soft Seat: ANSI Class VI
Ball & Seat Tungsten Carbide Coated: ANSI Class V
Standards
Face to Face
Wafer: Manufacturer Internal Standard
Flanged: ISA S 75.4
Hydrostatic Test Pressure
Shell: 1.5x pressure rating
Seat: 1.1x pressure rating
Materials
1. Carbon Steel
Body
ASTM A216 WCB
Stem
17-4 PH
Seat
ASTM A351 CF8 + Stellite
Ball
ASTM A351 CF8 + Hard Chromium (HCr)
2. Stainless Steel 304
Body
ASTM A351 CF8 (SS304)
Stem
ASTM A351 CF8M (SS316)
Seat
ASTM A351 CF8 + Stellite
Ball
ASTM A351 CF8 + Hard Chromium (HCr)
3. Stainless Steel 316
Body
ASTM A351 CF8M (SS316)
Stem
ASTM A351 CF8M (SS316)
Seat
ASTM A351 CF8M + Stellite
Ball
ASTM A351 CF8M + Hard Chromium (HCr)
Features & Benefits
VALMATIC Segmented Ball Valve is similar to that of a conventional ball valve but with a V-notch segment ball. Coupled with the favourable characteristics of a quick action and high flow capacity of a ball valve, the V-notch segment produces equal percentage flow characteristics for precise flow control. The specially hardened and coated ball and disc design makes the valve especially suitable for media containing viscous fluids and dirty media such as sand, fibres, sludge, paper, pulp and chemicals. VALMATIC Segmented Ball Valve can be fitted with a wide variety of control options for both on-off and throttling applications.
1. ONE PIECE BODY
Rigid, one piece body design eliminates potential leakage paths caused by separate flange connections
2. V-NOTCH
V-notch design allows for precise equal percentage flow control and strong shearing ability for fibrous and dirty media
3. SPLINED STEM CONNECTION
Splined connection between the stem and ball provides additional strength under high loads, efficient torque transmission and precise control.
4. DURABLE COATINGS
As a standard, the metal seat is Stellite hard-surfaced and the disc is Hard Chrome coated for added durability and a long-lasting service life.
5. SPRING LOADED SEAT SEATING
Hexagonal springs allows for constant contact with the ball and seat, ensuring enhanced sealing performance.
6. LOW TORQUE OPERATION
With less than half surface engagement of the segment ball compared to a full bore ball valve, lower friction and lower operating torque is required. This increases the lifecycle of the valve and allows a smaller actuator to be used.
7. REPLACEABLE SEAT
The seat can be replaced without needing to disassemble the valve or actuator, making service and maintenance fast and easy.
* High temperature metal sealing adopts a removable retainer
design
Product Catalogue

Articles